« The Bookshelf | Main | Angel Season 5 Promo Poster »

July 19, 2003

OPINION
All Singin', All Dancin'




My sister Emily despises Buffy The Vampire Slayer. There are certain solitary episodes that she's liked. She loved "The Gift" for instance and she respected "The Pack" as well. However, she consistently pokes fun at me for watching a show that she considers stupid. Her favorite show, by the way, is Friends. The one thing about Buffy that I was able to get her into is the music of Buffy. I sat her in a room and made her listen to "Pain", a brilliant song by Four Star Mary, the band that portrays Oz's Dingoes Ate My Baby on the show. She loved it. Four Star Mary have lent some of the best music on television to Buffy thankfully. They remain a fantastic band, and if you haven't yet purchased one of their albums, please do so. Since then, I've also been able to get her to appreciate Superfine, a clever band whose clever song "Already Met You" appeared in "The Pack".

The quality of the music is yet another part and piece of Buffy that I love. Obviously, the first great song that appeared on Buffy was Nerf Herder's fantastic theme song, which was refined and improved upon in season three. This manic song, with its underlying organ part, was the perfect song to accompany the opening credits of a manic show with underlying brilliance. Nerf Herder is a really interesting band with a fantastic sense of humor. I really suggest that you check out the short feature on them and some of the other Buffy music on disc three of the Season Four DVD.

The first great song that actually appeared during a telecast of Buffy was Far's "Job's Eyes" during "The Pack". Far is a band that I don't know too much about (which is saying something as I am a rabid listener of any sort of music), but "Job's Eyes" which played as Xander and his gang of "hyenas" stalked toward the school, is a menacing and multi-layered song that really captures your attention. Joss Whedon has a wonderful ear for music. At the start of Buffy he let loads of really good bands into the mix: Nickel, Superfine, Dashboard Prophets, Cibo Matto—these are the bands that come to mind.

Speaking of Joss, not only does he have a great ear for music, but he also is a brilliant songwriter in his own right. The first time a Joss-penned song appeared on Buffy was during his season-ending opus "Restless". The song was called "The Exposition Song". It was hilarious and catchy, and he brought in composer Christophe Beck and Four Star Mary to perform it on camera. Anthony Stewart Head lent the song his beautiful vocals, and the song was a massive success, which leads us to "Once More, With Feeling".

When I started seeing commercials for something called Buffy The Musical, I began to get nauseous. I thought that my show had finally run out of good ideas and that a musical was a terrible idea. I was absolutely expecting the worst from the episode, and imagine my surprise when I got the best. The episode now sits comfortably in my top ten and the music was brilliant. Amber Benson singing "Under Your Spell" is three short minutes of pure majesty. Anthony Stewart Head's "Standing" makes you want to bawl your eyes out. James Marster's "Rest In Peace" is one of the best pureblood rock songs in recent memory. And my personal favorite song, "Where Do We Go From Here", is a personal anthem of mine.

A year later when "Once More" was released on CD along with three glorious Christophe Beck tracks and an early demo of "Something To Sing About" with Joss playing piano and singing the Spike part and his wife Kai Cole doing the Buffy part, I couldn't find it. I had to go into four record stores before I found a singular untouched copy lying around. In fact, at one record store, a clerk told me that he snatched up a copy the morning I got there (the day it came out at around five) and he figured no other copies would be bought, and he was really surprised when every single copy was purchased within three hours. Wow. If you haven't already, read Joss Whedon's liner notes for the "Once More" soundtrack. His final words have become a mantra of mine: "Very occasionally if you play really close attention, life doesn't suck".

Okay, enough gushing about Joss's writing. The compositions that appear in the "background" of the show are often overlooked. However, Christophe Beck (Buffy's sole Emmy winner) and, later, Thomas Wanker (heh, wanker) have contributed so many great compositions to the show that I, personally, have found it hard to ignore them. Beck dazzled with his "Buffy/Angel Love Theme", "Buffy/Riley Love Theme", "Sacrifice" for "The Gift", and his suites for "Restless" and especially "Hush". I could go on all day about the brilliance of Christophe Beck, but I have only two words for you people: Please Download.

As the show went on, higher profile acts began to appear on the show. However, the choices remained impeccable. One of my favorite people in the universe Aimee Mann appeared this year singing the brilliant "Pavlov's Bell", and the wonderful Breeders also appeared in season seven. My biggest gripe music-wise was Michelle Branch's appearance in "Tabula Rasa" as I hate her music. However, the wise man Joss Whedon made her change her "Goodbye To You" to make it more understated and solemn. Joss Whedon even makes Michelle Branch stand out.

You may disagree with me and think that Michelle Branch is a great singer/songwriter. However, I like to think that there's one thing we can all agree on: Thank God Ashanti didn't bust out in song in "First Date".


Hey: Emmy Update! Buffy was actually nominated for something: Best Visual Effects for "Chosen". And one of its competitor's is actually Firefly's beautiful two-hour "Serenity".

Daniel Erenberg lives in a gothic-looking house in a suburb of Long Island shrouded by trees and darkness. His backyard is so overrun with shrubbery that he can't plant flowers in the soil. He's penned articles for numerous magazines (and a couple of websites for free). Currently, he's writing his first novel, entitled People That I've Long Since Forgotten. He's also written two plays, Little Room and Dystopia and a screenplay called Youth Or Consequence. He lives a fairly happy life alone and hankers constantly for the hour of eight P.M. to nine P.M. on Tuesday nights. You can contact Daniel on daniel@slayage.com.

Latest Comments

Thanks JLC,
An intellect mind that makes meanful comments instead of making a show of criticism. I wish people would respect the meaning of this site. It's here for us to discuss our thoughts. Whether ypu agree or disagree with the host of the topic, please just state your thoughts. To attack other users or the host is pointless. If you disagree with a statement, say your piece why! I've disagreed with several of Dan's (and others) comments on this site and I've stated it so. And those comments were discussed between the people whom enjoy this site. Almost everytime, I discovered an issue or subject I never thought of before and it was a learning experience. Point I'm trying to make is, lay off the beatings on peoples. And, if you don't have a thought at all, don't feel you have to make a comment.
Dan, excellent topic. JLC, your're right on the songs. Take care all!
mathatter

Posted by: madhat on July 30, 2003 04:36 PM

---

I'm glad that the musical stylings of the Buffyverse were mentioned. I thought that, for the most part, the music chosen was great and fit the moods of the characters and episodes. Some of my favorites were the Cibo Matto song playing in When She Was Bad, "Full of Grace" by Sarah McLachlan in Becoming II (although the frequent use of her songs in the season finales did get tiring), "Sacrifice" in The Gift , "Goodbye to You" by Michelle Branch in Tabula Rasa, and "Blue" in Conversations with Dead People. All of the music chosen for the show greatly influenced my reactions to the episodes they were shown in.

Posted by: JLC on July 29, 2003 02:29 PM

---

Ah. Funny. Wasn't talking to you.

Posted by: mathat on July 28, 2003 08:56 AM

---

Sorry Dan. Thought this was Ron's post. My face is red!

Posted by: madhat on July 27, 2003 10:09 PM

---

Hello Ron,
What strikes me most was the excellent use of music in BtVS. It always seemed to fit the mood of the show. My favorite was THC in "Beer Bad" and "Wild at Heart". The songs 'Overfire' and 'Need to Destroy' are haunting with the show. Also 'Out of this World' by Bush in "Dead Things" and 'Blue' by Angie Hart and Joss in "CWDP" hit hard. The use of small bands really fit the theme of Buffy. I will miss it. Take care all.

Posted by: madhat on July 27, 2003 10:06 PM

---

Full list of comments (59) »



Post a comment
Privacy Policy | Copyright © 1999-2004 Slayage.com. All rights reserved.
"Buffy The Vampire Slayer" TM and © (or copyright) Fox and its related entities. All rights reserved. Any reproduction, duplication or distribution of these materials in any form is expressly prohibited. This web site, its operators and any content on this site relating to "Buffy The Vampire Slayer" are not authorized by Fox.
Home | Reviews | Articles | Buffy Episode List | Angel Episode List | Trailers/Promos | Spoilers | Official Buffy Site | Videos, DVD's | Advertise on Slayage.com | Buffy Merchandise | Search | Join Slayage The Mailing List | Contact Slayage.com
Slayage.com is free to use, but not free to run. All donations are appreciated.

Show your love...link to slayage.com or if you buy this stuff through the site it helps out with running costs: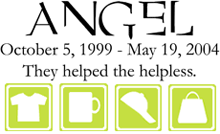 anything from blackstar, including:
NEW DESIGNS! Slayage.com t-shirts, mugs, mousepads. Got a suggestion?
Syndicate Slayage.com articles (XML)
Syndicate Slayage.com reviews (XML)
anything from amazon, including:
NS, DS, KM, VL, CF, ES, SR, AF, SJ, CB, AA, JH, RG, LH, GF, DK, EC, LM, SH, CK, AE, EB, XW, DB, MC, MR

Italiano, Deutsch, Espanol, Francais, Português
BuffySearch.com
BuffyGuide.com
Buffy-slayer.org