« FAQ2 | Main | James Marsters Yearbook Photos - 1980 »

June 20, 2003

OPINION
Welcome To DVD World




I bought a DVD player two Christmases ago because I found out that the first season of Buffy The Vampire Slayer was going to come out in January. The first two DVDs that I purchased were Mallrats (for Kevin Smith and crew's brilliantly funny commentary track) and Star Wars Episode One: The Phantom Menace (for the myriad of special features on the second disc). However, what I was really looking ahead to was season one of my personal favorite obsession. Season one's DVD would have picture-enhanced versions of the pilot two-parter, the brilliant Joss Whedon directorial debut "Prophecy Girl", and personal favorites "The Pack" and "Teacher's Pet". DVD was the best thing since Joss Whedon wrote his first spec script.

In two years, I've amassed a huge library of my favorite films on DVD and collected the first four seasons of Buffy and the first season of Angel, watching each featurette and listening tenaciously to each commentary track by Joss, Douglas Petrie, Marti Noxon, Jane Espenson, or any of the other members of the cast (only Seth Green) and crew who have recorded their voices.

Let me tell you my Buffy DVD ritual. This is what I do with every season when I purchase them. First I run through each of the twenty-two episodes. After each single episode I read the entry about it in Keith Topping's Slayer book. This lends me a bit of enlightenment to the episode. I read about the flaws that I never seem to catch, and it's all very fresh in my mind since it hasn't been five minutes since I've watched the episode. When I've finished all twenty-two, I head into the extra features. First I listen to each and every commentary. I am not yet up to this in the season four DVD (I'm up to "Who Are You?"), but there have been some rather brilliant ones on the previous DVDs. Joss on "Welcome To The Hellmouth", "The Harvest", and "Innocence" lent some incredible insight and were also very quirkily funny. Listen to "Innocence" and you get to hear Joss yammer on about how Anthony Stewart Head does not like to wear pants. It's really good stuff. Even "Reptile Boy", an episode I'm not too fond of, has a great commentary track by David Greenwalt. David Fury had a good one on "Helpless", Doug Petrie gave a good one for "Bad Girls", and director Michael Gershman said some wonderfully thought provoking things about his "Consequences". I'm uber-excited about the commentaries on the fourth season DVD. I'm looking forward to Joss on "Hush" and "Restless", Joss, Marti Noxon, and Seth Green on "Wild At Heart", Douglas Petrie on "The Initiative" and "This Year's Girl", Jane Espenson on "Superstar", and David Fury on "Primeval". The set is packed"and if this is starting to read like an advertisement for it, well it's only because I love it that much.

After listening to the commentaries, I delve into the featurettes, which are never really as good as you want them to be. Joss is always funny and it's absolutely insane to hear James Marsters and Juliet Landau speaking without British accents, but they never really offer anything you don't already know. I have some high hopes for the season four ones though. There's one focusing on Spike and one focusing on Oz, and this makes me extremely happy.

The one thing that's missing from these DVD sets that I would love to see is more commentaries from the actors. Seth Green on "Wild At Heart" is the first one (and, so far, last one) on any of the DVDs (and I only know region one so you never know). I would love to see, on the fifth season DVD, James Marsters doing one for "Fool For Love" or Nicholas Brendon doing one for "The Replacement" or Michelle Trachtenberg doing one for "Real Me". The list goes on and on. And I'd like to see Sarah Michelle Gellar doing one, but I really don't see that happening in the near future.

Even the Angel DVD is worth your time. Hearing Joss Whedon and David Greenwalt riffing off of each other while talking about "City Of" is a magical thing.

Really, if you don't already have the DVDs, I'm begging you to get them. And if this article read like something you'd normally see describing a product on Amazon.com (proud sponsor!), then I'm sorry. It's just that the only Buffy-related thing I can think about this week is this fourth season DVD set.

Oh, and one more thing. I like Riley Finn and Marc Blucas more than ever after watching some of these episodes. You guys are nuts!

Daniel Erenberg lives in a gothic-looking house in a suburb of Long Island shrouded by trees and darkness. His backyard is so overrun with shrubbery that he can't plant flowers in the soil. He's penned articles for numerous magazines (and a couple of websites for free). Currently, he's writing his first novel, entitled People That I've Long Since Forgotten. He's also written two plays, Little Room and Dystopia and a screenplay called Youth Or Consequence. He lives a fairly happy life alone and hankers constantly for the hour of eight P.M. to nine P.M. on Tuesday nights. You can contact Daniel on daniel@slayage.com.

Latest Comments

I too have purchased both R1 And R2 sets of S4 and I can honestly say that the R2 version is soooooooo much better. I know America gets the latest seasons before us but we get the best looking DVDs and before you lot. We're currently on season 6, with season 7 out next yr. I cannot wait for the last set though, it is rumoured to feature 40+ featurettes, an episode of Buffy animated, an unaired episode from season 2 and 3 and multi angle episodes. Blimey, that's a corker!

Posted by: Brett Turner on October 15, 2003 05:38 AM

---

Communism Forever! Zeki! Angel Kicks Ass

Posted by: Hitler's Son(Party Boy) on July 15, 2003 12:25 PM

---

I really appreciate season four a lot more now that I have watched it all. For some reason I feel compelled to write that.




Posted by: Paige on July 3, 2003 05:07 PM

---

Daniel,

You should consider yourself lucky. Down here in Australia (Region4)we don't get the same amount of special features you guys get. With season 4 Buffy we got all the commentaries you mentioned , except the one with Seth Green. The one that is probably the most interesting. The one where you could see an episode from a different perspective. In the season 1 Angel DVDs the cover advertises "OUTTAKES". These are not on the DVDs. When I questioned Fox I was told , "Oh, these covers where made for the US release. There not available for Aust".

I dread to think what else is different in the other season. Sure we receive the releases earlier but why are we trated like 2nd class citizens as far a Special Features are concerned. We love "Buffy" & "Angel" as much as the rest of the world so would it hurt for us to receive the same consideration in the content of our DVDs.

Posted by: Glenda on June 30, 2003 01:05 AM

---

I've just read Joss Whedon's comments with regards to the S4 Region 1 DVDs not being presented in widescreen and am actually quite surprised. He seems to have, in one sweeping comment, condemned the versions of the DVDs that have been released elsewhere in anamorphic widescreen whilst, at the same time, giving those of you in Region 1 a lame excuse for not giving you the widescreen presentation. Does this mean that he is going to advocate Fox re-issuing the set everywhere else in the world in 4:3 format and also give those of us who own the widescreen editions a full refund???! I don't think so.

Speaking as a big enough (or, rather, mad enough) fan who owns both the Region 1 and Region 2 S4 sets I have to say that, having just re-watched "Hush" from both sets, the Region 2 picture is absolutely stunning and completely blows away the Region 1 version. Plus, the book style design gives the sets a wonderfully unique and attractive look.

Of course this all takes into account the ownership of a widescreen tv in the first place, which is a fairly major issue. I'm not sure I'd be too happy watching it with black bars at the top and bottom of the screen.

At the end of the day you pays your money you takes your choice. Or something like that...

Posted by: Steve Damarell on June 25, 2003 09:06 AM

---

Full list of comments (47) »



Post a comment
Privacy Policy | Copyright © 1999-2004 Slayage.com. All rights reserved.
"Buffy The Vampire Slayer" TM and © (or copyright) Fox and its related entities. All rights reserved. Any reproduction, duplication or distribution of these materials in any form is expressly prohibited. This web site, its operators and any content on this site relating to "Buffy The Vampire Slayer" are not authorized by Fox.
Home | Reviews | Articles | Buffy Episode List | Angel Episode List | Trailers/Promos | Spoilers | Official Buffy Site | Videos, DVD's | Advertise on Slayage.com | Buffy Merchandise | Search | Join Slayage The Mailing List | Contact Slayage.com
Slayage.com is free to use, but not free to run. All donations are appreciated.

Show your love...link to slayage.com or if you buy this stuff through the site it helps out with running costs: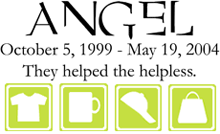 anything from blackstar, including:
NEW DESIGNS! Slayage.com t-shirts, mugs, mousepads. Got a suggestion?
Syndicate Slayage.com articles (XML)
Syndicate Slayage.com reviews (XML)
anything from amazon, including:
NS, DS, KM, VL, CF, ES, SR, AF, SJ, CB, AA, JH, RG, LH, GF, DK, EC, LM, SH, CK, AE, EB, XW, DB, MC, MR

Italiano, Deutsch, Espanol, Francais, Português
BuffySearch.com
BuffyGuide.com
Buffy-slayer.org